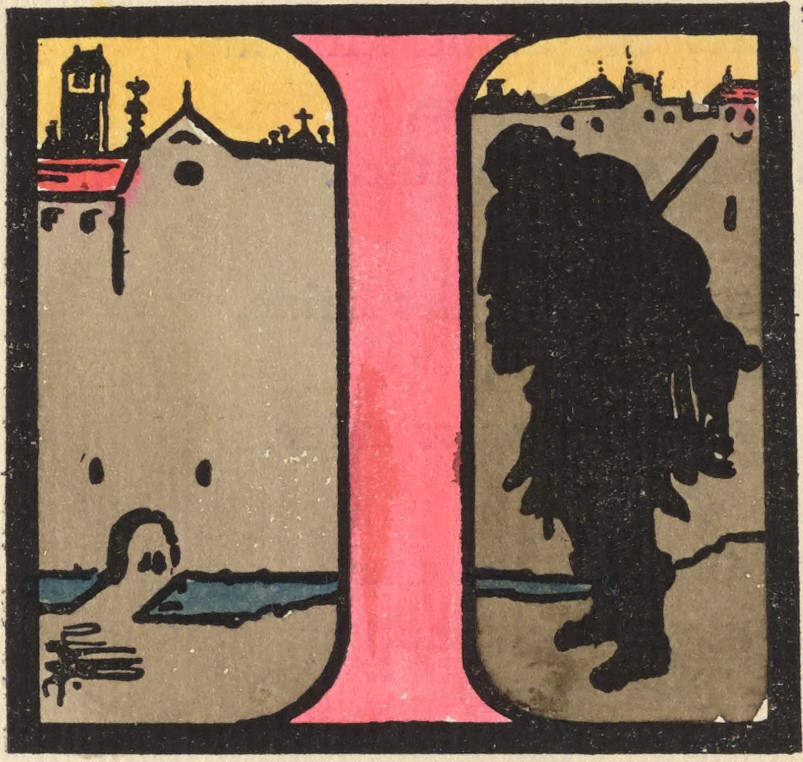 'M a tattered starving beggar fiddling down
the dirty streets,
Scraping tunes from squeaking catgut for
a plate of broken meats,
Scraping tunes and singing ballads: old
and blind and castaway,
And I know where all the gold is that
we won with L'Ollonay.

Oh the sunny beach of Muertos and the windy spit of sand,
Off o' which we came to anchor: where the shipmates went a land,
Where the blue laguna empties under trunks of rotting trees,
The home of gaudy humming birds and golden colibris.

We came to port at Muertos when the dipping sun was red,
And we moored her half a league to sea to west of Nigger Head,
And before the mist was on the key : before the day was done
We put ashore to Muertos with the gold that we had won.

We bore it through the marshes in a half score battered chests,
Sinking, staggering in the quagmire till the lush weed touched the breasts,
While the slithering feet were squelching in the rotting fallen fruits
And the slimy little leeches bit and sucked us through the boots.

The moon came white and ghostly as we laid the treasure down,
All the spoil of scuttled carracks: all the loot of ship and town
Copper charms and silver trinkets from the chests of perished crews
Gold doubloons and double moydores, louis d'ors and portagues.

4
The Green Sheaf
Clumsy yellow metal earrings from the Indians of Brazil,
Emerald ouches out of Rio: silver bars from Guiaquil,
Silver cups and golden flagons: censers wrought in polished bronze,
And the chased enamelled sword-hilts of the courtly Spanish dons.

We smoothed the place with mattocks and we took and blazed the tree
Which marks you where the gold is hid that none will ever see,
We rowed aboard the brig again and south away we steers
Through the tossing surf o' Muertos which is beating in my ears.

I'm the last alive as knows it: all the rest was took and swung
In the clanking chains at Wapping Stairs where thieves and such are hung;
And I go starved and fiddling down the byeways in the rain
Knowing where the gold was hidden out of all the Spanish Main.

Well I've had a merry, merry life: I'm old and worn and blind,
And the sun-dried swinging shipmates' chains are clanking in my mind;
And I see in dreams o' whiles the beach, the sun's disc dipping red,
And the tall brig under tops'ls swaying in past Nigger Head.

I'd be glad to step ashore there: glad to take a pick and go
To the lone blazed cocoa palm-tree in the place no others know,
And lift the gold and silver that has lain for twenty years
By the tossing surf o' Muertos that is thundering in my ears.

John Masefield.
MLA citation:
Masefield, John. "Blind Man's Vigil," pictorial initial by Pamela Colman Smith. The Green Sheaf, No. 7, 1903, pp. 4-5. Green Sheaf Digital Edition, edited by Lorraine Janzen Kooistra, Yellow Nineties 2.0, Toronto Metropolitan University Centre for Digital Humanities, 2022. https://1890s.ca/GSV7-masefield-blind/